Panel Fabrication
DRM undoubtedly has one of the finest panel shops in the industry.
While we take pride in our capabilities, craftsmanship and performance, we never rest from continuous improvement. Building over five hundred electrical control panels per year, we supply our own integration service as well as OEM units for some of America's top manufacturers and equipment suppliers.
All our technicians are well trained controls electricians who understand schematics and applications. This helps to insure our clients they have a well-constructed and electrically sound product. We have earned tremendous buying power from most suppliers so we can be a very cost effective solution. Why settle for less?
NEMA 12, Food Grade, Hazardous Location, Outdoor, Furnace and Damp locations
NFPA 70E, NFPA 79, RIA 15.06, UL-508A with IEC and CSA upon request
Power-up and performance testing
Custom painting and labeling
Custom climate control capabilities
Quick connect solutions for rapid field installation
Fiber-optic and copper distribution panels
Server cabinets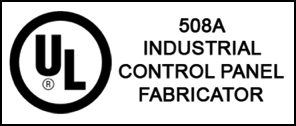 ---
Related Links:
Project Profiles/Application Experience Examples:
Control Panels Disaster Recovery

A manufacturer of consumer products was flooded and had to start production rapidly or risk losing market share. DRM was chosen to rebuild many complex panels throughout the facility. An assessment was made to determine the most cost effective and expeditious method for replacement. Panels ranged from paint control, furnace burner and assembly line controllers all with PLCs, touch screens, servo and induction motion.

Some panels and controllers were so obsolete replacements had to be found and programmed. DRM coordinated with disaster recovery teams, placing tents at DRM's facility to reclaim as many components as possible saving time and repair costs.

DRM continuously ran trucks picking up panels for repair and delivering rebuilt units. Working multiple crews and very long hours, DRM helped this plant startup from complete flood to operable in less than four weeks.

DRM was honored to receive a "Safe the Day" award from this world-wide manufacturer, the first and only ever given an integrator.