Robotics
DRM has been a systems integrator for FANUC Robotics for many years.
We have developed various robotic applications, with unique base/platform and End Of Arm Tooling (EOAT) configurations that suit the end result as nothing else could.
Modern robots include functionality such as SoftFloat, Dual Check Safety (DCS), Integrated Vision, various communications networks, and application specific software that uniquely tunes positioning systems for optimal use.
DRM is affiliated with the RIA and is compliant with RIA15.06.
Custom End Of Arm Tooling (EOAT) design and fabrication
Quick change tooling with integral electrical and pneumatic/vacuum connectivity
Multiple gripping technologies
Custom base design
Safety system functionality
Communication directly with PLC or HMI for best-in-class control
3D simulation
Material handling, dispensing/spraying and pick/pack/pal solutions
Vision, Force Guidance and 7th axis positioning applications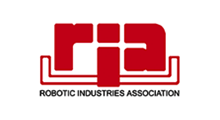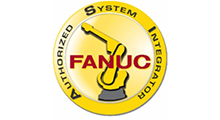 ---
---
Related Links:
Project Profiles/Application Experience Examples:
Automotive Dash Adhesion

An automotive second tier supplier asked DRM to design a dispensing cell that would eliminate the need for a person to spray adhesive on a dash assembly. This was an ergonomic and material savings application. DRM developed and system using a FANUC P-50 painting robot with integral dispensing system to deliver and apply the adhesive. The operator would stand outside the cell unloading/loading dash assemblies on a turntable while the robot sprayed. The Ethernet connected PLC and HMI managed the cell operation. This system was built on a platform which allowed for ease of transport and installation at the client facility.


Food Plant Pallet Stacking

A national food producer needed to stack cases of product exiting an assembly line on to an automated pallet system. DRM met the challenge with a FANUC R-1000 palletizing robot. This unit was equipped with a custom vacuum gripper for cases and pneumatic fold-out gripper for pallets. As the production line ran, the robot would stack the pallets with good cases. If a barcode reader failed a case, the robot would place that case on a different conveyor for operator inspection. Once the pallet was completely stacked, the conveyor would open a position for the robot to place a new pallet. Once placed the stacking would continue. This cell was designed to meet and exceed all applicable safety requirements.